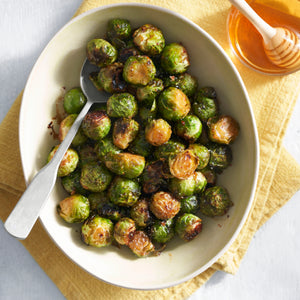 YIELD: Makes 4 servings INGREDIENTS 2 T - olive oil 2 T - honey 1 T - soy sauce 1 clove - garlic, minced 3/4 tsp. - crushed red pepper (or Aleppo pepper) 1 lb. - Brussels sprouts, trimmed and loose leaves removed kosher salt and freshly ground pepper DIRECTIONS Preheat oven to 425°F. Whisk together the olive oil, honey, soy sauce, garlic, and red pepper. Add the Brussels sprouts and toss to coat. Spread the sprouts evenly onto a sheet pan and bake until crispy and caramelized, about 20 minutes. Sprinkle with salt and pepper and serve hot. TIP...
---
YIELD: Makes 16 1" meatballs INGREDIENTS For Meatballs: 1 lb. - ground chicken 1/2 cup - breadcrumbs 1 - egg, beaten 2 tsp. - Korean chili pepper flakes 1 tsp. - kosher salt scallions, sliced, for garnish For Hot Honey: 1/2 cup - honey 2 T - apple cider vinegar 1 tsp. - crushed red pepper flakes DIRECTIONS Preheat air fryer to 380°F. In a medium bowl, mix together the ground chicken, breadcrumbs, egg, chili pepper, and salt. Make 16 - 1" meatballs and place in the air fryer. Cook for 8-10 minutes, shaking halfway through cook time. While the...
---
      Ingredients for 16 servings CRUST ¾ cup almond flour 3 tablespoons coconut oil 3 tablespoons honey ½ teaspoon ground cinnamon 1 pinch salt FILLING 14 oz cans of coconut milk, chilled overnight ½ cup lime juice, from about 2 limes ⅓ cup honey 2 limes, zested Preparation Line an 8-inch (20 cm) square baking dish with parchment paper to hang over the edges. Make the crust: in a medium bowl, combine the almond flour, coconut oil, honey, cinnamon, and salt. Mix with a spatula until smooth. Transfer the crust to the baking dish. Use a spatula to...
---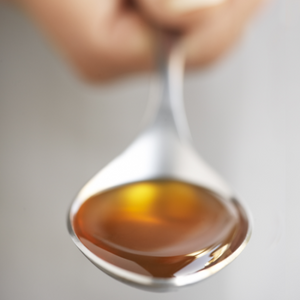 INGREDIENTS zest of 2 lemons (approx. 1 1/2 T) 1/4 cup - ginger, peeled, sliced, or 1/2 tsp. of ground ginger 1 cup - water 1 cup - honey 1/2 cup - lemon juice DIRECTIONS In a small saucepan, combine lemon zest, sliced ginger and 1 cup of water. Bring mixture to a boil, simmer for 5 minutes, then strain through into a heat-proof measuring cup. Rinse the saucepan out and pour in 1 cup of honey. On low heat, warm the honey, but do not allow it to boil. Add the strained lemon ginger water and the lemon juice....
---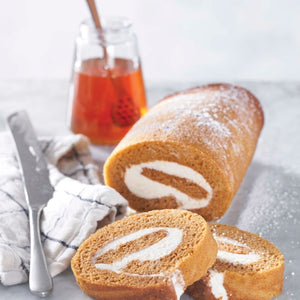 YIELD: Makes 8-10 servings INGREDIENTS 3/4 cup-all-purpose flour 3/4 tsp. - baking soda 1/2 tsp. - baking powder 2 tsp.- pumpkin pie spice 1/2 tsp. - cinnamon 1/4 tsp.-salt  3-eggs  1 tsp.-vanilla extract  1/3 cup-honey  1/2 cup-sugar  2/3 cup-pumpkin puree  For Cream Cheese Filling:   1 (8 oz.)-package of cream cheese  6 T-unsalted butter, room temp.  1 tsp.-vanilla extract  2 T-honey  1 cup-powdered sugar,sifted  pinch of salt   DIRECTIONS Preheat oven to 350º. Line a 13x10 inch jelly roll pan with parchment paper allowing 1 inch extra on the ends. In a medium bowl whisk flour, baking soda, baking powder, pumpkin pie...